Game Review : Sound Voltex Games
Tuesday, May 10, 2016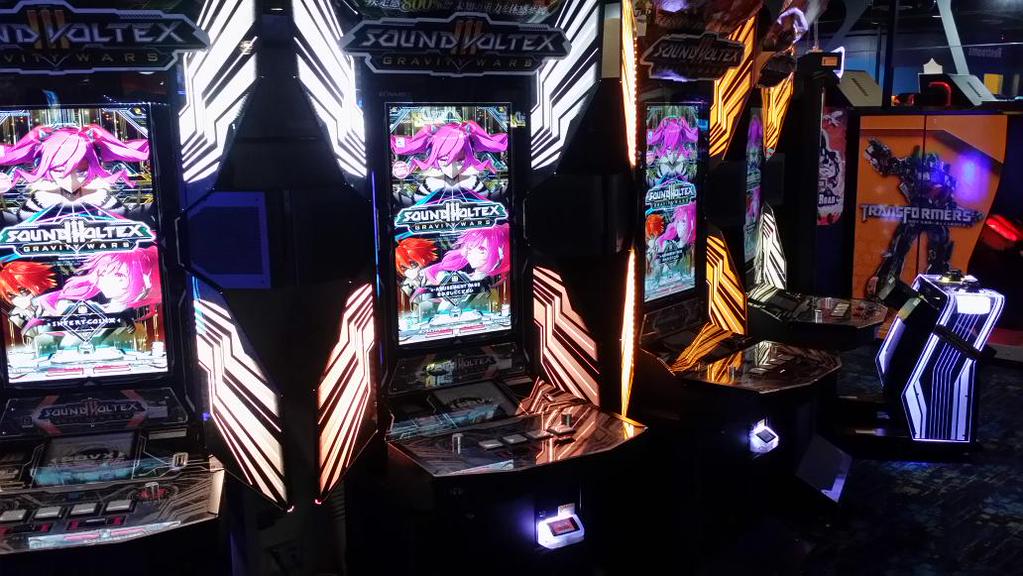 Sound Voltex games
Sound Voltex (stylized as SOUND VOLTEX, often shortened as SDVX) is a series of a music games by KONAMI. It was tested on various cities in Japan starting on August 26, 2011 until September 19, 2011. It was then released on January 18, 2012.
SOUND VOLTEX II - infinite infection - and SOUND VOLTEX III GRAVITY WARS are updated versions of SOUND VOLTEX, released on June 5, 2013 and November 20, 2014, respectively. It has since appeared, though more limited, in arcades outside of Japan (including some locations in the US and elsewhere).
At first, i thought this game was like Osu! i mean like Osu! Mania, and it does, just a little bit different from it, the Osu! Mania was developed by PPY and it just a PC games, Sound Voltex was music games that developed by KONAMI and i think the game is just available at the game center in Japan.
SDVX games used a remix music to play it, many music was from t+pazolite and it was remix, and there's from vocaloid too in remixes version, and maybe they're put a lil bit of the original songs on it
the basic version
The highscore rank is different too, depends on how much they can catch the tone, here's the highscore table :
| Grade | Judgment Value |
| --- | --- |
| AAA | Over 9,800,000 |
| AA | 9,400,000 ~ 9,799,999 |
| A | 8,900,000 ~ 9,399,999 |
| B | 8,000,000 ~ 8,899,999 |
| C | 7,000,000 ~ 7,999,999 |
| D | Under 6,999,999 |
*ps the highscore table was from the higher to the lowest
and here's the music sample from the game :
**pss i really love the music XDD it was soooo cool :3
A days ago i realized if there's a PC version of this game and you can download the PC version (
Click Here
) dont worry, it was free XDD, but im sorry i dont know how to make a control of the games, while i downloaded it,i was so blind about this game XDD. But really i loved all the Sound Voltex music
Thanks for reading by the way ^o^
leave your comment below~
if you want to know more bout this game, maybe you can check the
Wikipedia
or the Sound Voltex official website~